I love food. Malaysians love food.
No matter what your nationality is, nothing wrong loving food!
I remember when I first arrived Ireland, I could not believe how affordable grocery shopping can be. On average, if I cook meals every day and only eat out once or twice per week, my grocery shopping only comes to €40 per month!
My fav grocery shopping spot? ALDI or LIDL.
Both are budget supermarkets, you can find them almost everywhere in Ireland.
Tip: if Go! 21 students are living in Dublin 8 region, you can find a LIDL on Cork Street.
If Go! 21 students are living in Dublin 1 region, you can find LIDL on Meath Street or ALDI on Parnell Street.
(Feel free to ask your education consultant for more info, Go! 21 students!)
Today's budget supermarket shopping spot: ALDI
Simply because it is the closest to my house. To show you how affordable cooking at home + grocery can be in Ireland, I took a few shots of items below.
Remember how blueberries always cost at least RM 10.00 in Malaysia?
Well, you could buy blueberries in ALDI for as little as €0.79
Next time if you come grocery shopping in ALDI, watch out for the ALDI Super 6 deal! The supermarket chose 6 different types of fruits and vegetables for a sale at €0.79.
What's fresh for €0.79?
Blueberries
Pears
Grapes
Mushrooms
Long beans 
Onions 
You can't really say no to this fantastic deal.
Tip: Here's an ideal meal for ya: Stir fry mushrooms with long beans + Onion omelette + rice + blueberries and grapes for fruits. SORTED!
Let's see... what else? How about apples for €0.99?
Tip: Pack lunch to college and bring an apple with you for snacking.
ONE apple as a snack only costs you €0.19 (Plus, an apple a day keeps the doctor away lol!)
Going bananas for just €1.25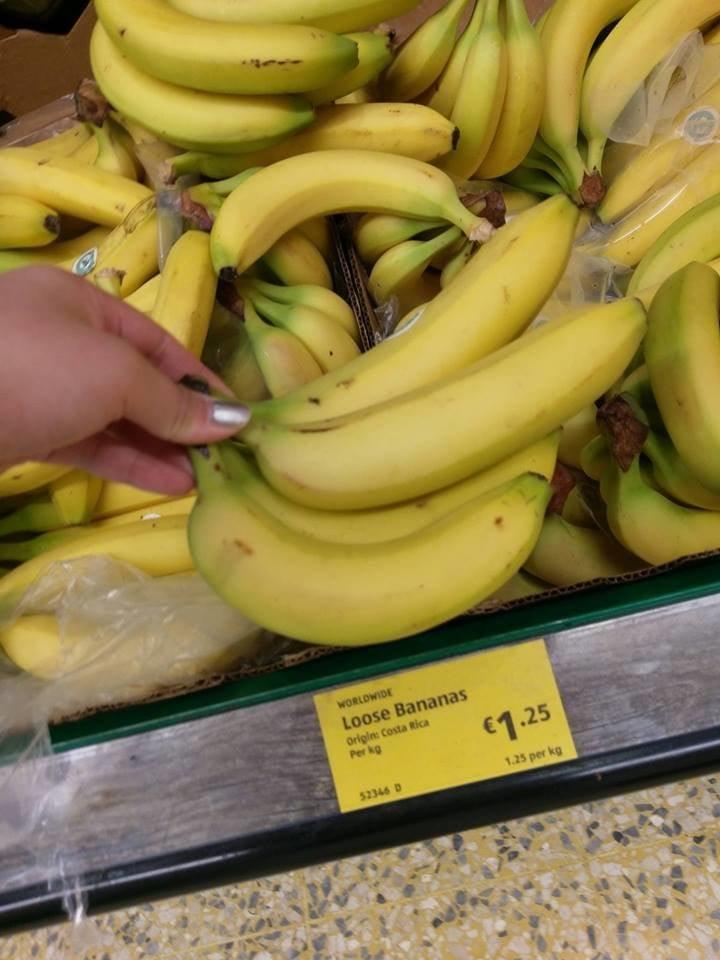 5 loose bananas for €1.25, again, bring it to college for a quick snack!
1 banana as a snack = €0.25
Time to pick up some vegetables for lunch and dinner...
2kg of potatoes for €1.49
Tip: If 2kg of potatoes is too much, make it to potato mash and store in the fridge for a quick dinner! Or just simply split the potatoes with your housemates.
Tip: Buy a blender and blend fresh tomatoes by yourself. Couldn't get a fresher pasta sauce than this.
FRESH mushrooms for €0.89
No more eating mushrooms from cans! Loads of fresh and wide variety of mushrooms in Ireland.
Tip: Share this big bag of carrots with your housemates. I used to split this 1kg of carrot with 3 housemates, 33c worth of carrots enough for 3 meals!
Fresh, organic broccoli for €1.50
I love broccoli.
Tip: Stir fry broccoli with carrots and prawns in oyster sauce, feels like home right away!
I used to have students asking me,
"I don't eat beef, what choices do I have in Ireland?"
Well, if you have the same concern, see answers below:
1kg chicken drumsticks for €2.79
Yep you see that right, 10 drumsticks for only €2.79.
Why? Because angmo prefers chicken breast for meals so...
Tip: Chicken wings/ chicken drumsticks/ chicken leg are relatively cheaper in Ireland than in Malaysia
Feel like eating chicken wings? €2.39
Tip: Buy this if you're cooking dinner with friends, there are at least 15 chicken wings in this box. Can't beat chicken wings.
6 pork chops in that box. So, if you eat one pork chop per meal, that would cost you €0.66 per pork chop.
Tip: Cut the pork chops in small pieces (for stir fry), marinate the way you like, put 2 portions in the fridge for next few days' cooking and the other 4 in the freezer.
And if you do eat beef, Irish beef is one of the best in the world
900g of Irish beef mince for €3.59, you could easily make 3 meals out of it!
Tip: If you like to spoil yourself some time, buy a T-bone from your local butcher costing no more than €5.
I don't eat beef but close friends who eat beef enjoys it very much here!
Just look at the seafood selection they have!
Salmon, cod, fishcakes, scallops....
Love salmon? You're in luck. €3.79
Or 2 cod fillets for €2.79
1 cod fillet per meal would cost €1.39. No more complaining about expensive fish!
You could make really good, nutritious and affordable meals in Ireland.
As I understand studying and living abroad can be challenging, sometimes financially as well, but that does not mean you should give up on cooking nice meals for yourself!
Buy these fresh meats, vegetables and fruits from your nearby budget supermarket, you'll be surprised how spoilt you will be. ​
If you find this article useful, feel free to share! ❤
We have more tips coming along in our next article such as snacks, household items. So stay tuned!
Oh and one more thing ...
We share even MORE tips in our Go! 21 Study Abroad Community! We even bring our new Go! 21 students for shopping upon their arrival to Ireland.
Grocery shopping - where to shop and get the best deals 
Where to buy Asian food 
How to buy phone SIM card and transportation card
How to get around Dublin city
How to join and receive Go! 21 student membership?
Simply choose to Go! 21 Education as your study abroad partner in Ireland :)
How to start your study abroad application in Ireland?
Any questions? Feel free to reach out to us!